WHOLESALE HERMIT CRAB SHELLS SUPPLIES
Get your bulk supply of Hermit Crab Shells Painted, Decorative, Fancy, Dyed Colorful, Natural & Land Hermit Crab Seashells today.
Wholesale Hermit Crab Shells Supplies
#1 Bulk manufacturer & wholesaler of Hermit Crab Shells and supplies; our products consist of Painted, Natural, Dyed, Fancy, and Decorative Sea Shells. We also supply accessories such as water ponds, food dishes, Caves, huts, and more.


Sals Marine Products. An independent well-established entrepreneur in the hermit crab shells wholesale business for over 17 years. It has allowed me to understand your requirements as a customer and develop an enriched knowledge of Hermit crab shells, working to our mutual benefit.

Having established a chain of loyal clientele from across continents – I believe it's time to extend this service to you. Customer obsession is my prime concern, besides delivering the very best in a wide range of quality Fancy and Decorative hermit crab shells and accessories. Additionally, working from the hub of the world of seashells allows me to offer you an exhaustive list of exclusive seashells at wholesale prices.
-Business To Business Only-
Wholesale Only

WHOLESALE HERMIT CRAB SUPPLIES
Hermit Crab Shells Painted & Fancy Shells

We carry a wide selection of painted shells & Decorative designs that are available in various colors and sizes from small, medium & large sizes.

Being in the Hermit crab supply industry has allowed us to test many different paints and finalize paints that are non-toxic and safe to use. Our higher-grade fancy will not peel easily.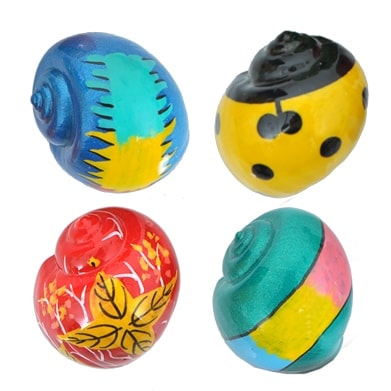 Dyed Colourful Decorative Hermit Crab Shells

Our dyed seashells come in various colors, including solid base colors, metallic colors, and neon colors, to meet your specific needs.
We are happy to work on special orders and use the color shades that you specify.
To ensure that our painted and dyed shells are suitable for Hermit Crabs, we use high-quality, non-toxic colors and paints.

Hermit Crab Shells Natural Polished

Natural Seashells are available in various shapes, and sizes. We only use suitable types of natural shells commonly used for hermit crabs.

Each seashell is carefully checked to ensure they meet the highest quality and are not broken from the inside. Sizes are available in Small, Medium, Large, extra-large sizes, and jumbo hermit crab shells

3D Hermit Crab Shells

Quality designs and virtually unbreakable 3D Seashells are available in various themes and styles, including ocean, beach, garden, and more. We have over 50 different designs to choose from.
The paints we use for our Decorative 3D Seashells are durable and won't peel. In addition, the colors we use are all non-toxic.

hermit crab shells for sale
We have the biggest sale ever since we started our business, and it's for stock available for our decorative, painted, natural shells, fancy hermit crab supplies, and accessories. Prices will be lower than our regular wholesale bulk pricing, and the sale will be available while supplies last.
Please see our terms and conditions for more information on the minimum order specifications, or contact us.
Hermit Crab Wholesale Supply
We look forward to working with you